Petsafe Deluxe In-Ground Fence
99 in stock
Description
Keep your dog home with a PetSafe Containment System
The PetSafe Deluxe In-Ground Fence System is a quick and cost effective way to keep your dog home. It's a simple to use containment system designed to stop your dog from running away, and also to keep him out of restricted areas like the chookpen and garden. Just plan your perimeter layout, install the transmitter and wire, and complete the brief dog training programme.
Extra wire can also be purchased for blocks up to 10 acres. We suggest you call us if you need to add extras to the kit, and we can eliminate some of the excess packaging and give you a better freight price.
Dog Guide
Small to large pet breeds from 5-40 kilos of average build, not overly muscular chest and neck structure
Easily trained and generally obedient by nature: not hardheaded, ignoring commands or with high pain tolerance
Suits dogs like: Maltese, Cavaliers, Spaniels, Retrievers, Poodles, Collies and Kelpies
Recommended for 6 months and over: your dog must be able to understand and carry out basic commands
This system is not recommended for vicious or aggressive animals that may pose a threat to others
Recommended for healthy animals only, please consult your vet if you have any concerns about your dog's health (pregnancy, heart condition, medication etc.)
Collar weight 90g Length 5.7cm Width 2.6cm Height 2.4cm (no probes)
Features
Quick and easy to install
Covers up to 10 acres with additional wire & flags (sold separately)
Wire break alarm sounds on transmitter
Adjustable boundary width dial on transmitter
Waterproof and submersible Receiver Collar with 4 programmable correction levels plus tone only option
Run-through prevention: Correction increases if your dog tries to run through the boundary zone
System works with multiple pets: additional collars required
Compatible with most PetSafe and SportDOG wired containment systems fence collars
NOT compatible with the SportDOG Rechargeable Fence System Collar.
Package Contents
Transmitter with power adaptor
Deluxe In-Ground Fence Collar on adjustable webbing collar strap (75g)
Replaceable PetSafe RFA-67 battery for collar (life 3-6 months)
Test Light Tool
1×150 metre roll of wire & 50 Boundary Flags to cover up to 1/3 acre
Wire splices as required
Product Manual with full training programme Download Manual
Benefits of a Dog Containment System
Quick to install, under 4 hours for an average yard
Can be used as an invisible barrier to avoid blocking views and light
Easy temporary fence for holiday homes
Dog can't dig under, jump over or chew through
More affordable than a physical fence
How does it work?
The transmitter box plugs into a standard power outlet, it is NOT waterproof. The boundary wire is laid in a complete loop around your yard, with both ends connected to the transmitter. A radio signal travels along this wire and creates a field which becomes the 'Correction Zone'. Your dog wears a receiver collar that detects the radio signal as he approachs the outer edge of this zone. He will hear a warning tone and then receive a static pulse if he does not retreat into his pet area as trained. This mild static pulse is harmless; you have probably felt a similar sensation from touching a car door or brushing against someone. It works very much like the Tens Machine that a Physiotherapist uses to stimulate your muscles (this is why a dog with strong neck muscles often requires a collar with a choice of stronger correction levels). The radio signal from the PetSafe In-Ground Fence can only react with the Receiver Collar; no need to worry about the kids playing in the yard.
Is it easy to install?
Yes, once you have planned your layout, an average yard takes less than 4 hours to install. It is even quicker if you have 2 people working together, one unrolling the wire and one attaching it to the fence.
Your transmitter is must be sited near an electrical outlet, usually in a laundry or garage. Install at least 1m from large metal objects or appliances. The transmitter box can be also be used in a metal shed if you mount it on a wooden panel about 500x500mm, and then attach the panel to the shed wall.
Next lay out the boundary wire making a circuit of your yard. When you get back to the start, twist the two wires together from the boundary to the transmitter to cancel the signal along that double stretch of wire and allow your dog to cross safely.
For an invisible fence, use a spade or lawn edger to make a trench to bury the wire 1-3 inches deep. You can also attach the wire to existing structures, lay it on the ground in thick scrub, or use a combination of methods. Driveways are crossed by cutting a shallow groove across the surface, then laying the wire in the groove and caulking over it. Or, you can lay the wire in the expansion joint and caulk over it. Wire can cross beneath gravel by laying it through electrical conduit.
If you have an existing fence and need to stop the dog digging out, attach the wire lower down the fence so the signal reaches beneath the ground. If your dog scrambles up the fence to escape, place the wire nearer the top. If he takes a running leap over the fence, bring the wire back to his take-off point and bury it underground.
How do I train my dog?
The boundary line is temporarily marked with flags to remind your dog of where the boundary is for training purposes. These are gradually removed over a few weeks towards the end of your training sessions.
The dog training programme is essential for the success of the PetSafe In-Ground Fence. The training programme consists of 3 x 10 minute sessions times a day for up to two weeks. You follow the steps to introduce your dog to the boundary and teach him to "turn and retreat" when he hears the warning tone. As your dog learns the system, you test him with the things that would usually tempt him away, until eventually he can be safely left alone. You must contain your dog by another method (chain or pen) until training is complete. If you are training several pets, work with one at a time to avoid distractions. You should reinforce training on a regular basis with brief refresher sessions.
Sample Boundary Layout
The basic loop layout allows your dog access to your entire property.
Run the wire out to the boundary and around the property. Twist the wire around the one that went out on the way back into the transmitter so the dog can safely cross. For full directions on installation and training, including perimeter layout ideas Download Manual.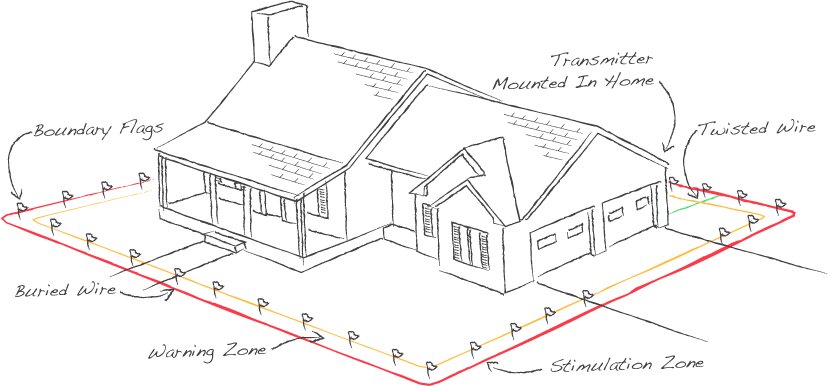 | Area of Block in Acres | Total Amount of Wire (1 roll included in kit) |
| --- | --- |
| 1/4 acre | 127 metres - 1 roll |
| 1/3 acre | 147 metres - 1 roll |
| 1/2 acre | 180 metres - 2 rolls |
| 1 acre | 255 metres - 2 rolls |
| 2 acres | 360 metres - 3 rolls |
| 3 acres | 441 metres - 3 rolls |
| 4 acres | 509 metres - 4 rolls |
| 5 acres | 570 metres - 4 rolls |
| 6 acres | 623 metres - 5 rolls |
| 7 acres | 673 metres - 5 rolls |
| 8 acres | 720 metres - 5 rolls |
| 9 acres | 763 metres - 6 rolls |
| 10 acres | 853 metres - 6 rolls |